It's no secret that AWS Lambda adoption has grown steadily since AWS first released it in 2015—and for good reason. The benefits of adopting Lambda are many: leveraging Lambda eliminates the need to provision and manage servers, enabling teams to just focus on their code without the mental and operational overhead of worrying about the underlying infrastructure. And from a cost perspective, Lambda allows teams to optimize for cyclical, bursty workloads instead of having to manage and pay for an over-provisioned infrastructure designed to accommodate seasonal traffic loads year-round.
Several vendors and analysts have recently reported accelerated adoption of Lambda among AWS users, including among the Blue Matador user base. In this post, we'll share what we are seeing with Lambda adoption among our user base relative to what other vendors and analysts are reporting.


Recent industry reports of serverless computing adoption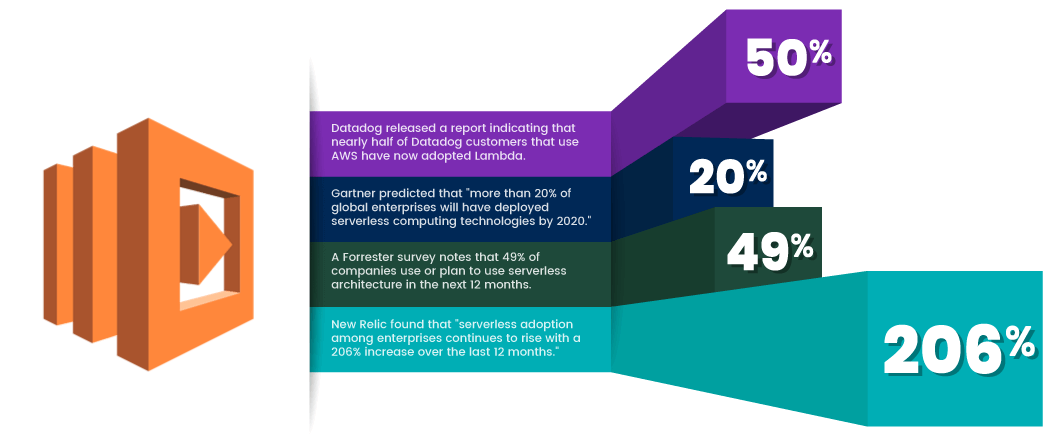 Lambda adoption among Blue Matador customers

We wanted to see how Lambda usage among Blue Matador users stacked up relative to the other reports and statistics mentioned above. This is what we found:
61% of Blue Matador customers that use AWS have 5 or more Lambda functions.

Using Datadog's definition of "Lambda adoption" (i.e. 5 or more Lambda functions), 61% of Blue Matador customers have adopted Lambda. We weren't too surprised by this discrepancy. Small, fast-moving, innovative teams naturally gravitate to Blue Matador, and Datadog is likely serving more less-agile enterprises that don't adopt new technologies as quickly.

26% of Blue Matador customers that use AWS use Lambda as their primary computing resource in production. Looking at our customers that are "all-in" on Lambda, 26% are using Lambda as their primary compute for their production workloads. So although a very high percentage of our customers have "adopted" Lambda, a relatively small number, 26%, have gone "all-in." But, anecdotally, we are seeing more and more examples of clients building new projects and workloads exclusively on Lambda, so we expect this percentage to continue to climb over time.
100% of Blue Matador customers that use AWS have at least one Lambda function. Perhaps the most surprising statistic is that all of our AWS clients have at least one Lambda in their account. This seems to be a good indicator that just about all organizations are dabbling in Lambda or thinking about serverless use cases for their organizations.


Conclusion
Considering Lambda is only 5 years old, it is very impressive to see the rate of adoption among our customer base and the supporting reports and statistics. And given the serverless-related questions we hear in product demos and interest we are seeing in our Lambda monitoring solution, we don't foresee these trends stalling anytime soon.
Subscribe to get blog updates in your inbox.